Essential oils have been used for ages in cultures across the globe. It has been traced back over 6,000 years, with Greeks, Egyptians, Romans, and Chinese, the innumerable therapeutic properties of essential oils.
Botanical extract is a nearly limitless source for multiple industrial applications. Due to their aromatic nature for developing and producing fragrances and perfumes, essential oils (EOs) have become common natural materials in cosmetics and hygiene.
EOs or various mixtures of their components (EOCs) are now used in the cosmetic industry as active ingredients or preservatives in a variety of product lines due to their numerous beneficial antioxidant properties (popularly used in moisturizers, lotions, and cleansers in skin care cosmetics; conditioners, masks or anti-dandruff products in hair care; lipsticks, or fragrances in perfumery).
The Emergence Of Essential Oil
The use of essential oils in numerous applications, including flavor and fragrance, aromatherapy, and other uses, can be credited with expanding the essential oil market.
Additionally, essential oil's therapeutic properties are anticipated to play a significant role in determining peak sales, paving the way for the expansion of the essential oil market. On the other hand, rising demand for essential oils as natural preservatives would open prospects for these products to expand.
The global market is further driven by the widespread usage of essential oils in commercial, industrial, and domestic settings. The primary commercial barrier, however, is the high cost of essential oils.
The cost of procurement can be reduced by getting these oil extracts from wholesale herbal supplements distributors.
Food & Beverages is the most influential segment of the essential oils market.
Essential Oils: More About It.
A plant's stems, leaves, seeds, roots, or flowers are used to distill its essential oil.
Lavender, tea tree, orange, lemon, peppermint, corn mint, and other essential oils are the most popular.
But each essential oil's distinct chemical makeup has distinctive advantages. Therefore, it isn't easy to generalize their potential applications in cosmetics and toiletries.
Generally, the formulators are vital in finding good mixes of EOs or EOCs to gain certain benefits in the final products.
  Market And Trends Of Essential Oils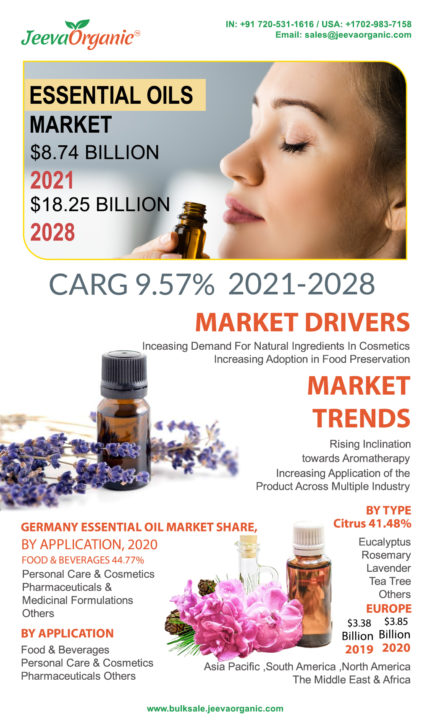 The essential oil market is divided into food & beverage, medical, cleaning & home, spa & relaxation, and others based on application.
The use of essential oils in paints, the textile and tobacco industries, paper production, and agrochemicals are a few further uses.
The market for essential oils is again divided into segments based on product type, distribution method, and geographic region.
Some widely used essential oils are orange, eucalyptus, corn mint, peppermint, citronella, lime, lemon, clove, CBD oil, and spearmint.
The global market is examined across direct, multi-level marketing, and retail distribution channels.
Wholesale essential oil suppliers, supermarkets/hypermarkets, online wholesalers, brick-and-mortar stores, and drugstores comprise the remaining retail distribution channel segments.
North America, Europe, Asia-Pacific, and LAMEA are the regions into which the market is divided.
Key Take Away
The manufacturer will be able to use the knowledge found here in developing a final product that will delight your customer base and lead your brand to an industry benchmark.
How To Find A Trusted Supplier Of Essential Oils?
Consider Jeeva Organic when you need genuine, premium essential oils responsibly sourced at a reduced price. Jeeva Organic is a top global supplier of Nutraceuticals and Dietary Supplements that get you the desired ingredients.