Quinoa is a well-known cereal due to its innumerable health benefits. Eating quinoa for meals is a legit thing these days. The evidence-based benefits of quinoa are always observed in finely ground form. Stay tuned to know more about the nutritional content and health benefits of quinoa.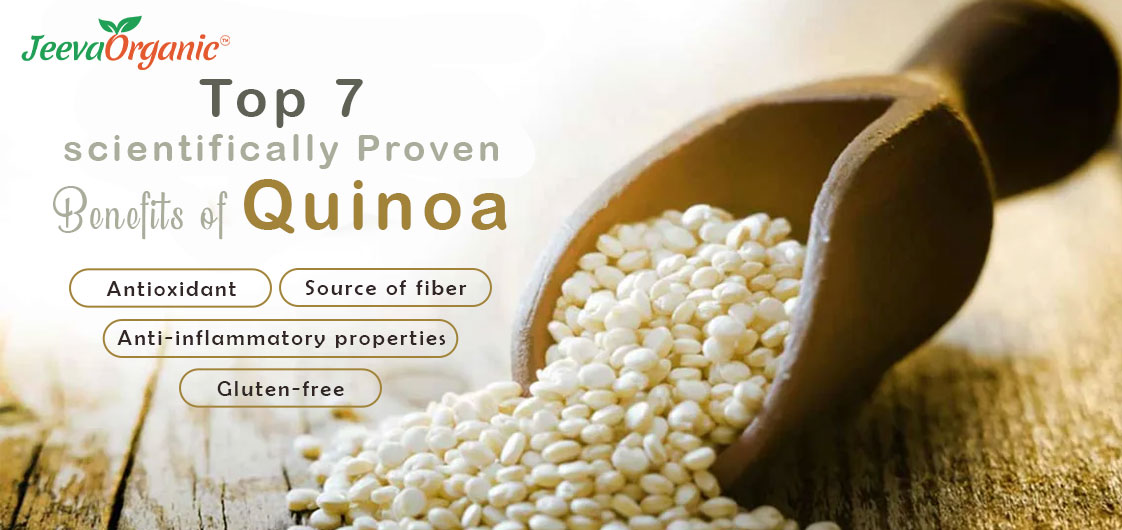 Nutritional profile: 
The bio experts categorize quinoa under pseudocereal and not a grain. This is so because it is a non-grass plant, and food producers can sell it as a healthy alternative to cereals or grains. The nutritional profile of quinoa has everything that a staple should be for a human being. Quinoa is rich with vitamins, minerals, fiber, etc. for a balanced diet. Above all, quinoa is gluten-free and is a healthy option. 
Health Benefits of Quinoa:
All the hype and touts about quinoa revolve around the health benefits. Now that we have landed up here, let us run through a few incredible health benefits of quinoa: 
1. Source of plant-based protein:
It is a non-animal-based protein-rich pseudocereal that becomes a primary part of diets. You get a reasonable source of easily digestible protein 
2. Rich in fiber: 
Quinoa has a fiber content of 15.42% which meets the daily requirement of fiber for a healthy human body. Diet with adequate fiber helps in weight management. The fiber-rich quinoa aids healthy bowel movement and reduces the risk of constipation. 
3. A powerhouse of antioxidants: 
Quinoa boosts cells reparations and new cell formation as it is rich in antioxidants. It adds to the metabolism of the body. Antioxidants also contribute to achieving clear skin. 
4. It is a gluten-free meal:
Gluten intolerance is a common health issue seen amongst people. Unlike most grains, quinoa is a nutritious and gluten-free alternative. You find a rich source of nutrients without gulping gluten. 
5. A perfect weight loss meal:
Quinoa for weight loss is a boon! It cuts the urge to snack and induces satiety in the body. Above all, it is easy to incorporate into diets. With a better absorption of nutrients, quinoa helps in the weight management process. 
6. Regulates the blood sugar level: 
Quinoa is a low-calorie nutritious staple that regulates the blood sugar level. Along with blood sugar, it also reduces the risk of other diseases like high cholesterol, high blood pressure, diverticulosis, etc. 
7. Anti-inflammatory properties:
Quinoa has anti-inflammatory properties that relieve the body from internal or external pain and inflammation. 
Final takeaway: 
Quinoa is one of the most popular products amongst health freaks! It has exemplified how life can go on a healthy track without giving up on a staple. It gives an experience of lack of urge to snack and lethargic feeling of a full stomach. In addition to that, Quinoa is an unmatchable dietary choice in households in the form of popular recipes like quinoa salad, quinoa, tacos, quinoa soup, etc. 
Planning to buy organic quinoa powder in bulk quantities at a whopping slash? Place your order today on Jeeva Organic. 
Disclaimer:
The above statements are not intended to cure any disease or comply with any health benefits. This is solely for information purposes. Please consult your doctor/health practitioner before consumption of the product. Although we take efforts to keep our website informative, we do not guarantee any medical benefits.