Overview
Agrimony is an herbaceous flowering plant with small yellow flowers that is commonly found in the grasslands of Europe. The plant has a long stem covered with short hairs which releases an aromatic fragrance. This perennial plant has been used in traditional herbal remedies due to its numerous potential benefits. Agrimony herb contains anti-inflammatory, astringent, and detoxifying properties, which makes it great for various health ailments. In the past, it was often used in tonics, brews, and solutions.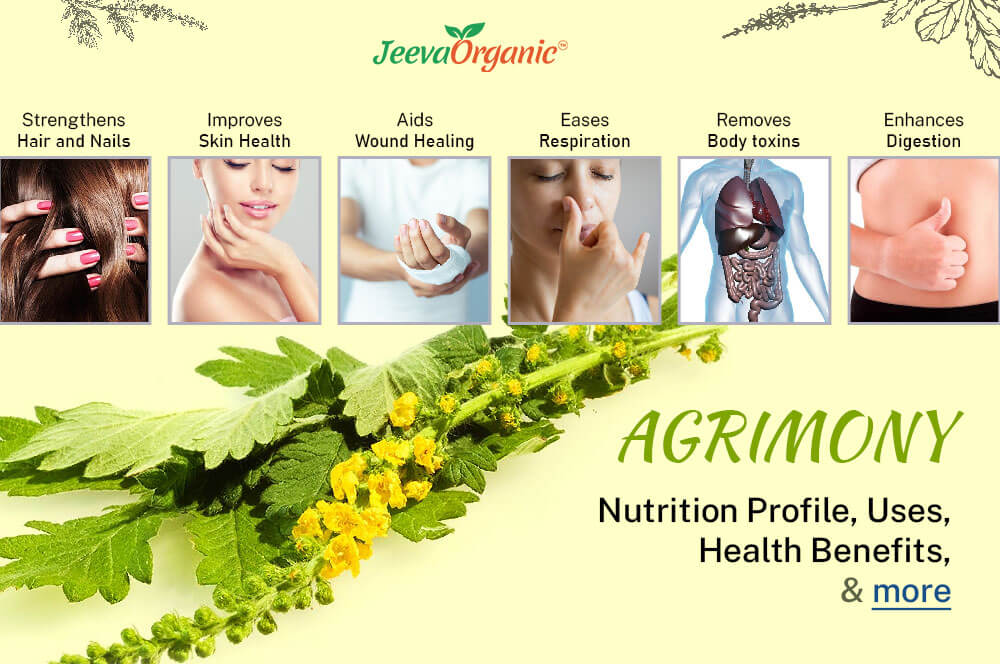 Agrimony Herb Nutrients
In agrimony, there are a plethora of active compounds such as catechin, an antioxidant, and thiamine. It possesses quercetin, which has an anti-inflammatory effect and provides the agrimony flower its colour. This herb comprises tannin that work as astringent and is used for several skin issues. Agrimony also contains palmitic, ursolic, and silicic acids that are beneficial for skin, hair, and nails. Along with all these components, it is packed with flavonoids like apigenin, kaempferol, and glycosides.
Uses and Health Benefits of Agrimony Herb
1. Strengthens Hair and Nails
The cleansing properties found in agrimony support the growth of hair and lessen hair fall. It promotes softness in hair and acts as a detangler in haircare products. Agrimony is composed of silicic acid that increases the appearance and strength of nails while preventing them from breaking.
2. Improves Skin Health
Agrimony is effective at handling irritation and blood eruptions occurring under the skin. It helps in reducing bruising and blotching with its astringent properties. Many skin ointments contain this useful herb for alleviating rashes, pimples, acne, and other skin problems.
3. Aids Wound Healing
Gunshot herb is another name for agrimony due to its amazing coagulant effect on constant bleeding. Since medieval times, agrimony has been known to stop bleeding and accelerate wound healing. These days, agrimony is used to reduce excessive menstrual bleeding. Moreover, the anti-inflammatory properties in the herb minimizes menstrual discomfort and makes the pain tolerable.
4. Eases Respiration
It is widely used for enhancing conditions of the respiratory tract. Agrimony benefits in decreasing the symptoms of sore throat, cough, flu, and other sinus problems. Many use it to calm inflammation in their throats and strengthening their voices. The herb is also used in medicine to speed up the process of recovery from respiratory issues.
5. Removes Body Toxins
Agrimony has abundant plant compounds that boost the ability of the body to eliminate toxins. It comprises phenolic acids, flavonoids, and tannins that have strong antioxidant effects. These compounds fight oxidative stress caused by toxins and diminish the risk of diseases. Its diuretic properties support kidney to flush out toxins through urine.
6. Enhances Digestion
The herb boosts stomach acid and enzyme production so that the digestive system becomes ready to absorb nutrients from consumed food. Its anti-inflammatory properties alleviate irritation and lower the chances of digestive issues.
As agrimony has a beneficial impact on hair, nails, and skin, it is used in skin care and cosmetics products. It is also utilized as a raw material in the pharmaceutical industry. In many places, people consume agrimony tea and consider it as a tonic. Due to its immense health potential, this herb is used across various industries.
If you are looking for Agrimony Powder in bulk quantities, you can place your order now on Jeeva Organic at affordable prices.
Disclaimer:
The above statements are not intended to cure any disease or comply with any health benefits. This is solely for information purposes. Please consult your doctor/health practitioner before consumption of the product. Although we take efforts to keep our website informative, we do not guarantee any medical benefits.