Overview
The betel leaf plant is a perennial twining vine whose leaves have a clove like flavour. These leaves produce an aromatic essential oil that has a sharp scent and a bitter taste. The oil is extracted from the leaves in various ways, but the most common one is steam distillation. The colour of this extracted oil ranges from light yellow to deep brown. It is gaining a lot of popularity these days due to its therapeutic effects on health. Betel leaf oil is mainly used for medicinal purposes as it contains antimicrobial, digestive, and stimulant properties.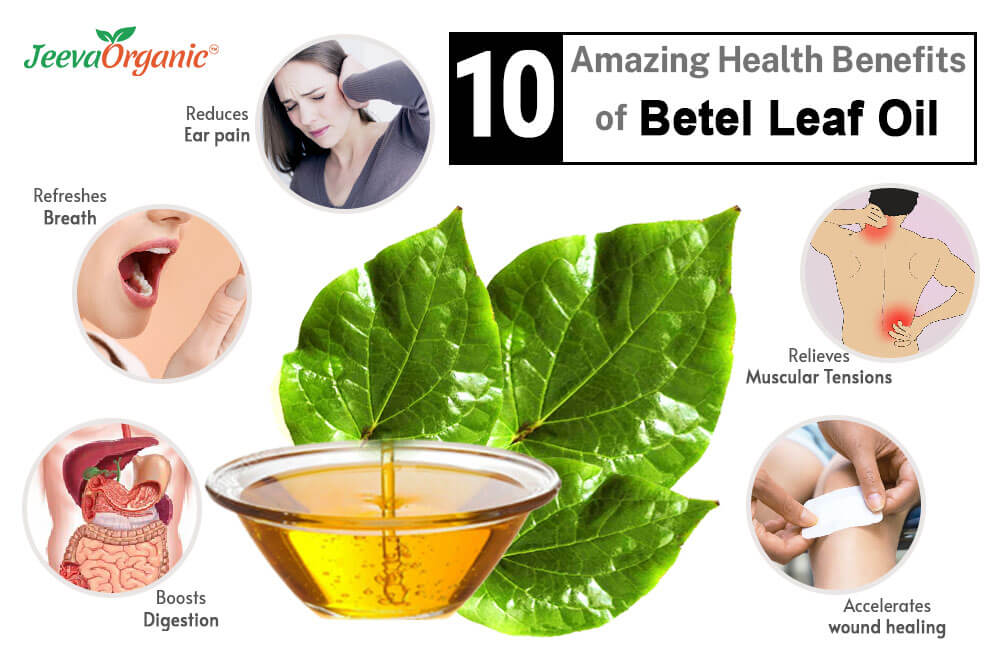 Nutritional Composition
There is around 90% water in betel leaves, so the moisture content is high and the calorie count is low. It contains several vital nutrients, like vitamin A, vitamin B1, iodine, and potassium. Betelphenol, campene, terpene, chavicol, and eugenol are certain chemical components found in betel leaf essential oil. All these chemical components have medicinal properties that are helpful for managing various health issues.
Benefits of Betel Leaf Oil
1. Boosts Digestion
The oil possesses digestive qualities that improve the functions of the stomach and prevent intestinal problems. Phenolic compounds and phytochemicals in betel leaf benefits in protecting the gut layer against irritants and toxins. It decreases the volume of gastric acid production and lowers the damage to the digestive tract.
2. Refreshes Breath
Bad breath happens due to bacterial activity in the mouth. Betel leaf oil can be quite helpful to refresh the breath after consuming food with a strong odour. Adding a few drops of the oil to warm water and gargling it can uplift your oral health. It restricts bacterial growth and makes the mouth fresh again.
3. Effective on Gum Issues
Pathogen development is responsible for bleeding gums and tooth decay. Several studies show that betel leaf oil fights germs and inhibits plaque building. Using the concoction of this oil and water can reduce the inflammation and swelling of the gums.
4. Deals with Skin Infections
The anti-fungal and antibacterial properties of this oil help to minimize the symptoms of skin issues. Applying betel leaf oil to the affected area aids in recovering from microbe allergies and infections.
5. Relieves Muscular Tensions
Betel leaf oil is known for its pain management capabilities, and massaging it on the sore muscles provides immense relief. Furthermore, it is works greatly to relieve back pain and reduce swelling or redness on the body.
6. Reduces Ear Pain
Ear infections is one of the major causes of earaches. Betel leaf oil can soothe ear with its cooling nature and lessen pain by preventing germ development.
7. Accelerates Wound Healing Process
The oil has a powerful impact on wound healing as it contains an exorbitant amount of antioxidants. Higher oxidative stress levels in the body can delay the wound healing process. However, the antioxidants in the oil lower the oxidative stress for faster healing of wounds.
8. Neutralizes Free Radicals
Free radicals increases oxidative stress in the body and reduces proper physiological functioning. Betel leaf oil contains eugenol, which is a great antioxidant for counterbalancing free radicals. Gallic acid is also responsible for free radical scavenging activity.
9. Improves Respiratory Health
Betel leaf oil has the potential to lower the symptoms of cold, cough, and nasal problems. Inhaling the steam of betel leaf oil can loosen up the mucus in the respiratory tract and provide relief from congestion.
10. Removes Tiredness
Adding betel leaf oil to the bath water can be quite effective at calming tired muscles. A massage is also useful for relaxing the entire body and mind.
The oil from betel leaves have been used in traditional medicine as an antimicrobial agent. Today, several pharmaceutical companies are including this oil in their products to deal with different health ailments.
Disclaimer:
The above statements are not intended to cure any disease or comply with any health benefits. This is solely for information purposes. Please consult your doctor/health practitioner before consumption of the product. Although we take efforts to keep our website informative, we do not guarantee any medical benefits.