White mulberries, scientifically known as Morus alba, are a plant native to India and China. The tree has observably long leaves and small berries ranging from white to purple. White mulberry is one of the most noteworthy fruits grown across the globe because of its tart flavour and its plethora of health benefits.  
Health Benefits of white mulberry 
White mulberry, a native Asian tree, is known for its rich nutritional profile, mesmerizing aroma, and delectable tart taste. It used to flavour cakes and pies too! However, the health benefits of mulberries are widely popular across the globe. The list below has a few health benefits of white mulberries.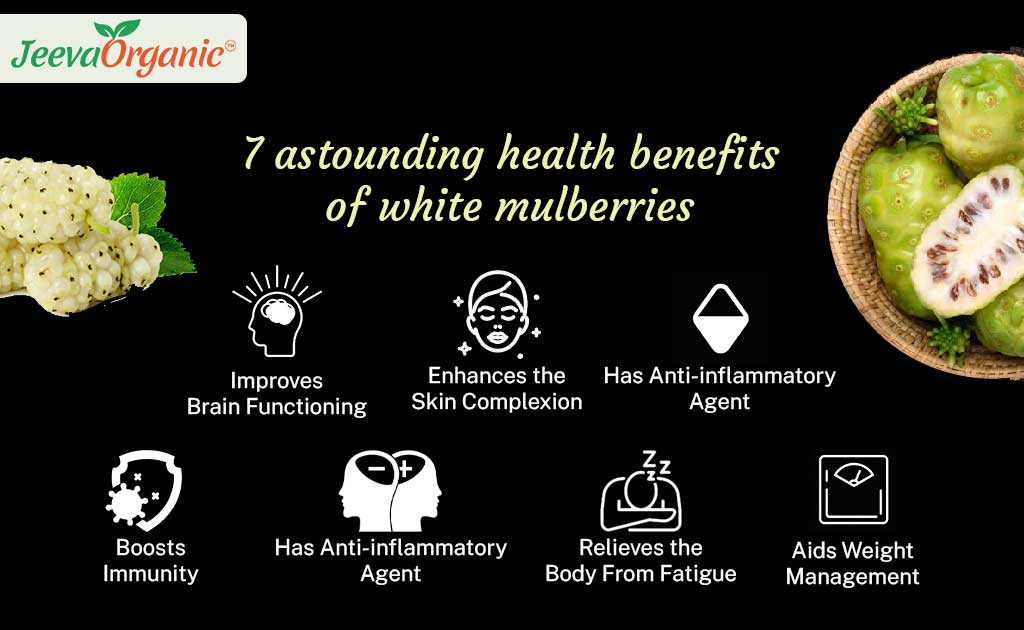 1. Improves brain functioning  
White mulberry leaf extracts boost cell growth in the brain. They also enhance the reparation of cells and reduces oxidative stress reasonably.  
2. Enhances skin complexion 
Both mulberry leaves and root extracts are known for their skin-whitening properties. It has a potential application in cosmetic products for the skin-lightening process. Mulberry is a rich source of the plant compound Mulberroside F, responsible for curbing melanin formation and tyrosinase in the body. This compound is also responsible for protecting the skin from pigmentation.  
3. Aids weight management 
White mulberry has a combination of plant compounds that suppresses the appetite reasonably and cuts down fat from the body. Besides weight management, it also keeps fatty liver diseases away.  
4. Anti-inflammatory agent 
White mulberry is a rich source of a compound known as oxyresveratrol that cubs the production of various other compounds in the body and contributes to having an anti-inflammatory property. It is also known to cure obesity-related inflammation. 
5. Boosts immunity 
White mulberries keep the immune system alert due to the presence of vitamin C. It brings down blood pressure and keeps blood sugar under control. Above all, White mulberry extracts are rich sources of vitamins and minerals that are responsible for bone health. Hence, it provides combat against a plethora of health issues.  
6. Acts as a mood uplifter 
White mulberry makes stress management easier by normalizing the cortisol level. It is also known to treat brain impairments by striking the right balance of blood sugar levels. Hence, it is a mood uplifter that enhances brain functionality.  
7. Relieves the body from fatigue 
White mulberry boosts endurance in the body during heavy workouts. It improves various indicators of fatigue, like hormone levels and glycogen. It ultimately relieves the body from excessive fatigue.  
Industrial Uses of White Mulberry 
Are white mulberries edible? Well, these are delicious treats for both humans and animals. However, these are the most crucial ingredients for various industries. The fruit is used for sericulture. Besides that, the leaves are used in the pharmaceutical, nutraceutical, cosmetic, beauty, food, and beverage industry. This plant also has all the crucial qualities required for a sustainable future of the plant.  
Where to buy mulberry leaf powder from? 
Are you wondering where to buy mulberry leaf extract Powder  Then, place bulk orders at a reasonable price on Jeeva Organic.
Disclaimer:
The above statements are not intended to cure any disease or comply with any health benefits. This is solely for information purposes. Please consult your doctor/health practitioner before consumption of the product. Although we take efforts to keep our website informative, we do not guarantee any medical benefits.