Overview
Avocado is a single-seeded fruit that has a buttery texture and mild flavour. There are various types of avocado that vary in size, texture, and colour. These fruits grow well in tropical, subtropical, and equatorial regions as the avocado plants cannot tolerate low temperatures. It is harvested and allowed to ripen so that its pulp can be added to numerous avocado recipes. Avocados contain a high amount of monounsaturated fatty acids along with vitamins and minerals. Due to these nutrients, they are included in healthy diet and offer a plethora of health benefits.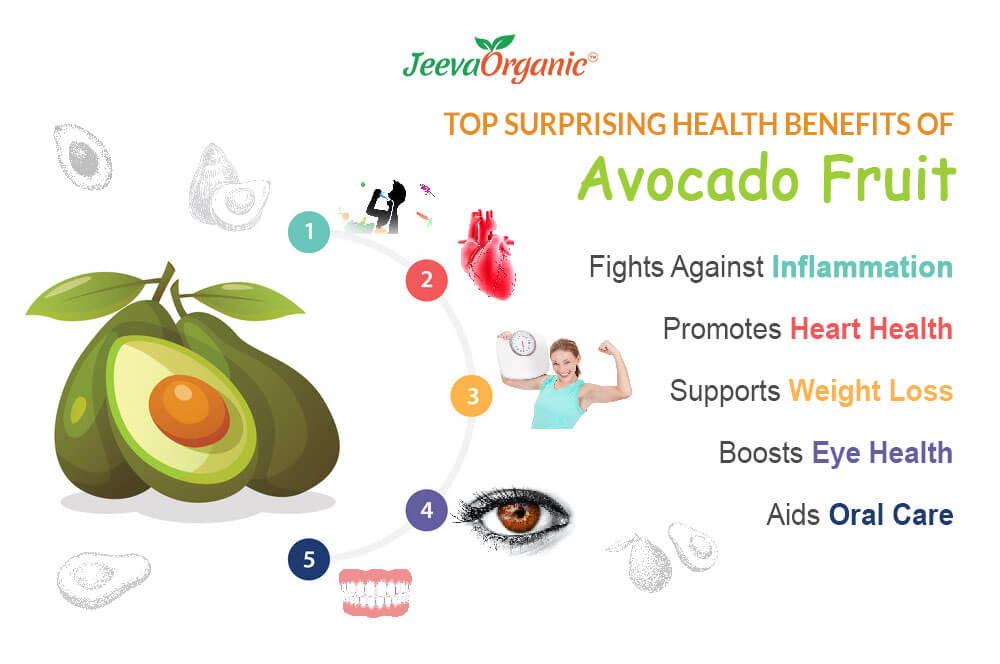 Avocado Nutrition Profile
Avocados are a treasure trove of vital nutrients, including tons of vitamins, minerals and fibre. The below points describe everything about avocado nutrition content.
1. Calories: The avocado fruit has low calorie content, and a whole avocado can contain around 200 to 300 calories. Since it has fewer calories, many incorporate it in their diet to lose weight.
2. Fats: It is packed with polyunsaturated and monounsaturated fats, which are known as good fats. Consuming avocado is considered to decrease bad cholesterol levels in the body.
3. Fibers: The fruit is a great source of digestive fibres, which help to regulate the blood sugar in the body and improve digestion. In 10 grams of avocado, there is about 1 gram of fibre.
4. Vitamins and Minerals: Avocados are nutritious fruits that have a high concentration of vitamins like, Vitamin E, C, K, folate, riboflavin, and niacin. In addition, it comprises magnesium, copper, potassium, and manganese, which provides an adequate amount of minerals to the body.
Scientifically-Proven Avocado Benefits For Health
1. Fights Against Inflammation:
In avocados, several plant hormones like stigmasterol and beta-sitosterol, along with omega-3 fatty acid reduce the body's inflammation. The fats in the fruit also lubricate joints and help in relieving pain.
2. Beneficial for Heart Health:
Avocados are rich in healthy fats, minerals, vitamins, and fibre that support the cardiovascular system. Along with that, the beta-sitosterol in avocado benefits in maintaining a healthy cholesterol level.
3. Helps in Weight Loss:
One of the major advantages of avocados is that they promote weight loss. Several recipes incorporating avocado fruit powder help to reduce weight by filling the stomach without adding too many calories to the body.
4. Good for Eyes:
The fruit has two essential phytochemicals, Zeaxanthin and lutein, that support eye tissues. These phytochemicals facilitate antioxidant protection in order to decrease damage from UV light. Fatty acids in avocados absorb other fat-soluble antioxidants that lowers risk of permanent or temporary vision loss.
5. Better Oral Health:
Consuming avocados or recipes with its powder helps to prevent bad breath. The fruit contains flavonoids that fight bacteria and restrict further growth of it. Potassium present in it also prevents decaying of tooth and cavities.
The Final Words
Avocado is a great fruit to include in diet as it contains plentiful nutrients. These days, avocado fruit powder is in immense demand due to its health benefits and uses in multiple industries. It is used in superfood mixes, dips, dressings, flavouring, baby food, skincare, and many more products.
If you are looking for Avocado Fruit Powder in bulk quantities, you can place your order now on Jeeva Organic at affordable prices.
Disclaimer:
The above statements are not intended to cure any disease or comply with any health benefits. This is solely for information purposes. Please consult your doctor/health practitioner before consumption of the product. Although we take efforts to keep our website informative, we do not guarantee any medical benefits.