Overview
Arnica or Arnica Montana is an herb with daisy-like flowers that grows mostly in Europe and Siberia. The flowers grow in every 2 to 3 inches apart and belongs to the sunflower family. After harvesting, these flowers are turned into powder or oil and added to skincare products and medicine. Arnica consists of certain active chemicals that address many health ailments. It is used in gels, tinctures, ointments, and creams to minimise inflammation and muscle soreness. There are countless uses and health benefits of arnica plant that are mentioned below.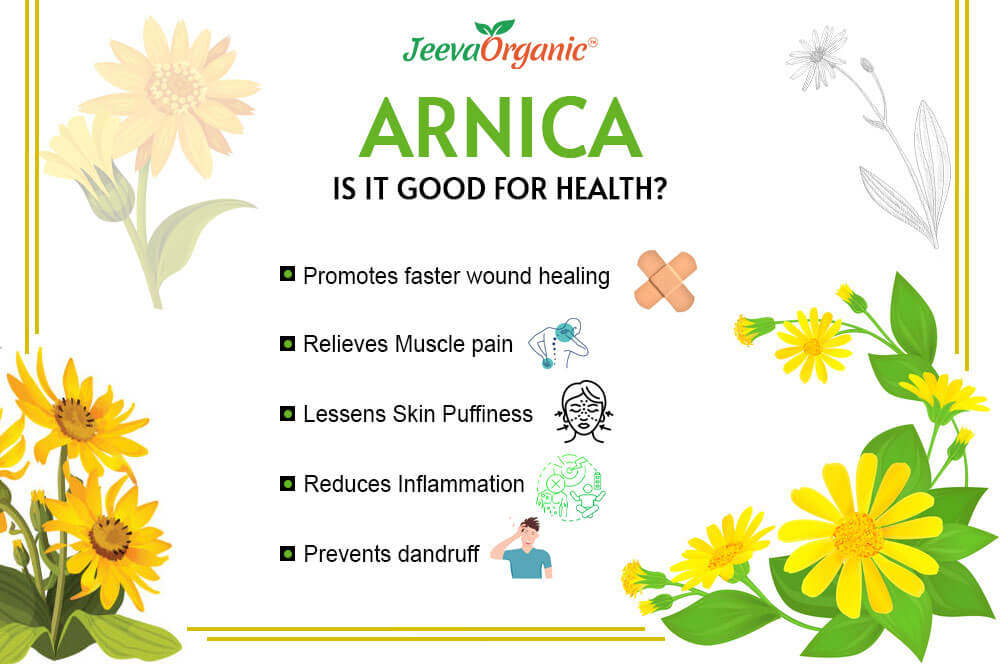 What Are Its Uses?
Arnica extracts have been long utilised in homeopathic and folk remedies for reducing rashes, boils, and sprains. Arnica has a plethora of inflammation-fighting compounds that help to eradicate sunburn, acne, and insect bites. Therefore, many manufacturers include arnica powder in their skincare products. It is used as a flavouring agent in drinks and foods. In several countries, drinking arnica tea is believed to improve the nervous system and digestive health.
Amazing Health Benefits of Arnica
1. Faster Wound Healing
Wounds often occur as a consequence of an injury that exposes the skin to germs. Quick recovery of wounds is important as it reduces the infection growth rate. Arnica has the capability to boost the blood flow to the affected area and accelerate the process of wound healing. People also use Arnica extracts to heal after surgery. However, it should not be used without a proper doctor consultation.
2. Relieves Muscle pain
Arnica is equipped with an enormous amount of anti-inflammatory properties. It includes several compounds, like sesquiterpene, flavonoids, phenolic acids, and lactones that are effective for pain management. It increases blood circulation and eradicate pain from the body. Therefore, arnica gel or balm is used on swollen areas, sprains and sore muscles.
3. Lessens Puffiness of Skin
Nowadays, the beauty industry is becoming aware of arnica's anti-inflammatory effects as it decreases the puffiness around the face. Many eye creams and face masks include this excellent ingredient to improve skin health. Moreover, it restricts the growth of bacteria on the skin, making it free from boils, rashes, and acne. Arnica is also used in spa services due to its healing properties for scars.
4. Reduces Inflammation
Products containing arnica powder or extracts are known to alleviate inflammation in any affected area. It is quite helpful in soothing insect bites as the herb removes excessive histamine from the body by promoting circulation and decreasing the desire to scratch. Thus, arnica helps in lowering swelling and improving the healing time.
5. Prevents Dandruff
Along with its anti-inflammatory properties, arnica is also beneficial in preventing bacterial growth. These properties act as a powerful defence against scalp issues and irritation. It inhibits the production of malassezia, a fungus that causes dandruff. As it improves the scalp health and boosts hair growth, arnica is used as an active ingredient in many haircare products.
From relieving pain to promoting hair growth, arnica has the power to support your overall health. To gain these health benefits, its powder is widely used in food, medicine, hair, and skincare products. If you want to order Arnica powder, then look no further than Jeeva Organics.
Disclaimer:
The above statements are not intended to cure any disease or comply with any health benefits. This is solely for information purposes. Please consult your doctor/health practitioner before consumption of the product. Although we take efforts to keep our website informative, we do not guarantee any medical benefits.