Overview
Agave or century plant is found in desert areas of Mexico and the US. It requires less maintenance as it is a drought-tolerant succulent. For years, Native Americans have utilized the plant for culinary purposes. The plant has high sugar content which makes it great for preparing tequila. Agave fruit, roots, and sap, everything is used for making medicine. Its anti-inflammatory and antiseptic properties is helpful for healing wounds, skin irritation, and burns. Besides that, it has some excellent health benefits that are listed below.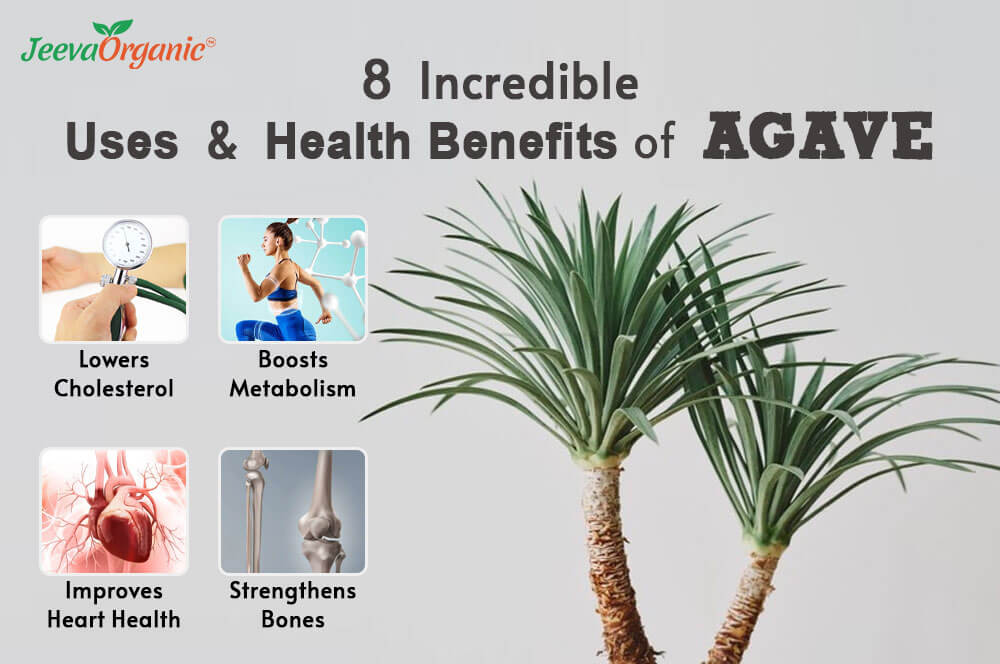 Few Health Benefits of Agave
 1. Lowers Cholesterol Levels:
Agave is a natural sweetener with vital compounds like terpenoids, inulin, glycosides, and saponins that reduce cholesterol levels in the body. Moreover, it contains healthy microorganisms that support the digestion system. 
 2. Boosts Metabolism:
In the Agave plant, there is an exorbitant amount of vitamin B6. This vitamin plays a crucial role in breaking down the food to provide body the needed carbs and proteins.
3. Improves Heart Health:
 Essential vitamins and minerals in Agave bring the homocysteine levels to normal range. Thus, it protects you from cardiovascular diseases and strokes. 
4.  Strengthens bones:
 Agave is a good source of vitamin K that increases the mineral density in bones. The fructans found in agave prevent bone loss and enhance its formation.
Top Uses of the Agave Plant
1. Antiseptic Cream:
With tons of medicinal properties, agave can provide relief from physical maladies. It is beneficial in preventing wound infection and healing damaged skin. 
2. Sweetener:
Agave nectar is an amazing alternative to honey and sugar. In Agave powder, the glycemic index is quite low, so it will not increase blood sugar levels in the body. In addition, it is 1.5 times sweeter than normal sugar.
3. Soap:
The saponin content in agave works as an amazing cleansing agent and therefore, it can be used to make soaps. Such products is also helpful in minimising inflammation in the skin. 
4. Lip Balms:
Many companies use Agave as a thickening agent in their lip balms. It encourages the retention of moisture and makes the lips smoother. 
5. Toothpaste:
It not only has antiseptic properties but also possesses analgesic properties, and these properties relieve tooth pain. It is also a non-cavity causing sweetener, so it is a healthy ingredient to add to toothpaste.
6. Hair Care Products:
Agave provides nourishment and hydration to the hair. Hair care products containing agave extracts can prevent breakage and dryness while making hair stronger.
7. In Confectionery Items:
The powdered form of agave thickens the liquid after getting dissolved. So, it is widely utilized in the confectionery industry for preparing mouth-watering food items. 
8. Beverages:
Traditionally, alcoholic beverages were made using agave. But today, agave powder is used in various hot and cold drinks. Due to its high solubility, people mix it in tea and coffee.  
Agave is packed with a myriad of therapeutic properties. Therefore, its powdered form is largely used in the beauty, pharmaceutical, and food and beverage industries. If you are interested in ordering agave powder in bulk quantities, then Jeeva Organics is the right choice for you.
If you are looking for Agave  Powder in bulk quantities, you can place your order now on Jeeva Organic at affordable prices.
Disclaimer:
The above statements are not intended to cure any disease or comply with any health benefits. This is solely for information purposes. Please consult your doctor/health practitioner before consumption of the product. Although we take efforts to keep our website informative, we do not guarantee any medical benefits.