Overview
Bayberry is an evergreen, deciduous shrub originated in eastern North America. It is cultivated in Asia, Africa, Europe, and the US. It grows around 9 meters tall in warm-temperate, tropical or sub-tropical climatic conditions. Bayberries have a sweet taste and knobby appearance. Its wax is collected to create bayberry candles that have a woodsy overtone. It is a superfruit packed with essential minerals and vitamins. Native Americans used the herb for making medicines. Traditionally, the herb was used to reduce flu, cold, and cough symptoms. People consume bayberry tea for its stimulant properties.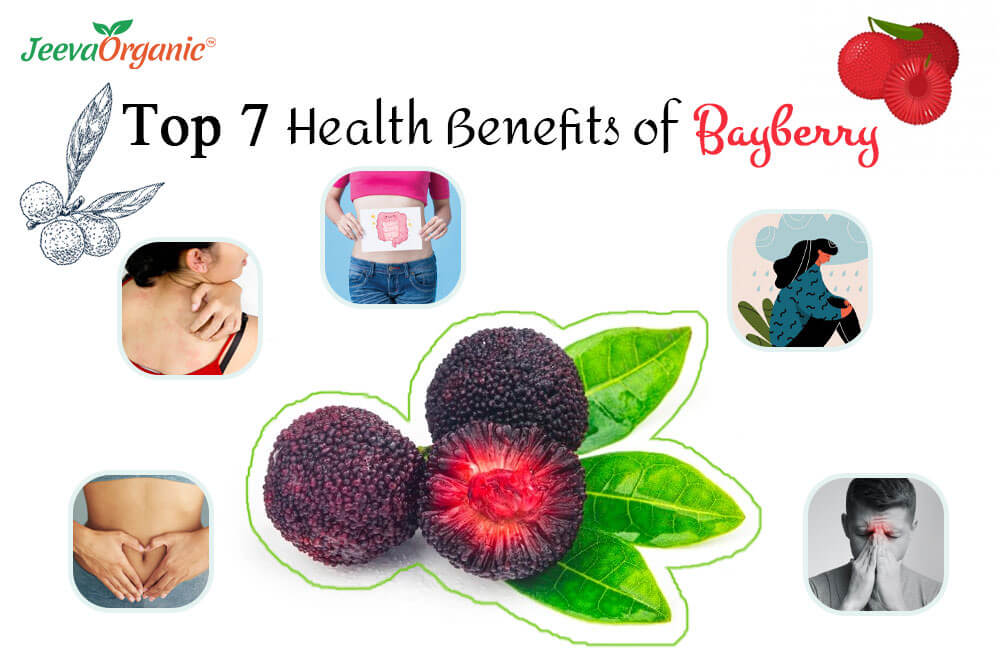 Key Constituents of Bayberry
In bayberries, there is higher levels of vitamins like carotene, riboflavin, and vitamin C, and thiamine. It is rich in antioxidants called oligomeric proanthocyanins that combat excessive free radical formation in the body. The bayberry tree is mostly used in herbal medicines due to the presence of compounds like phenols, flavonoids, tannins, and triterpenes. Bayberry contains a flavonoid called myricetin that has antibiotic effect on the human body.
Some Benefits of Bayberry
1. Reduces Sinus Problem:
Symptoms associated with sinus issues like flu, cough, and cold are reduced by using bayberry. It shrinks the mucous membrane and tissues to dry the secretion. Moreover, it also helps to reduce inflammation and infection in the sinus cavity for relieving pain around the face.
2. Supports Menstrual Health:
Bayberry powder is helpful for alleviating menstrual problems in women like heavy bleeding or discharge. It also decreases cramping, irritation, and discomfort by elevating uterus contraction.
3. Better Gum Health:
In ancient times, bayberries were used to lessen gums and mouth issues. Many toothpaste manufacturers include bayberry oil in their product for its medicinal properties.
4. Enhances Digestion:
Bayberry comprises astringent properties that increase the digestion power of the body and prevent diseases like gastritis, diarrhoea, bowel inflammation, etc. It reduces the growth of parasites, viruses, and bacteria that causes diseases. Bayberry contains tannins which tightens membranes and lessens leakage of fluids. So, people consume bayberry tea for its anti-diarrhoeal effect that relieves stomach pain.
5. Improves the Urinary System:
Bayberry helps in minimizing the impact of inflammation and uplifting the kidney function. The anti-bacterial activity decreases the infection in urinary tract. Several studies shows that bayberry boosts the bile flow to lower the chances of gallbladder issues.
6. Protects from Skin Infection:
The powdered form of bayberries is used in ointments for healing skin infections, sores, and wounds. It promotes blood circulation and perspiration to avoid the growth of bacterial infections. Bayberry is also beneficial for healing sunburn and eliminating scalp itchiness.
7. Lessens Fever Symptoms:
In the ancient times, people used bayberry to reduce the infection in nasal passage. Myricitrin chemicals in bayberry have high anti-biotic properties which provides a therapeutic effect to decrease the symptoms of fever.
For years, bayberry has been used as a therapeutic element in medicine for numerous health conditions. From minimizing throat inflammation to dandruff, bayberry can be utilized in multiple ways to improve overall health.
If you are looking for Bayberry Powder in bulk quantities, you can place your order now on Jeeva Organic at affordable prices.
Disclaimer:
The above statements are not intended to cure any disease or comply with any health benefits. This is solely for information purposes. Please consult your doctor/health practitioner before consumption of the product. Although we take efforts to keep our website informative, we do not guarantee any medical benefits.