Overview
Fenugreek is a common ingredient found in many households and mostly used in food for adding flavour. Apart from its culinary purposes, fenugreek seeds are great for enhancing beauty and nourishing hair. It grows well even in adverse climatic conditions and is widely cultivated in West Asia and Europe.
In fenugreek, certain amounts of glycolipids, fibre, and many essential vitamins like vitamin B1, B2, A, C, etc. are found. Due to its many nutritional elements and medicinal significance, fenugreek powder is beneficial for cosmetic purposes. Here are some mind-blowing benefits of adding fenugreek in your skin and hair care routine.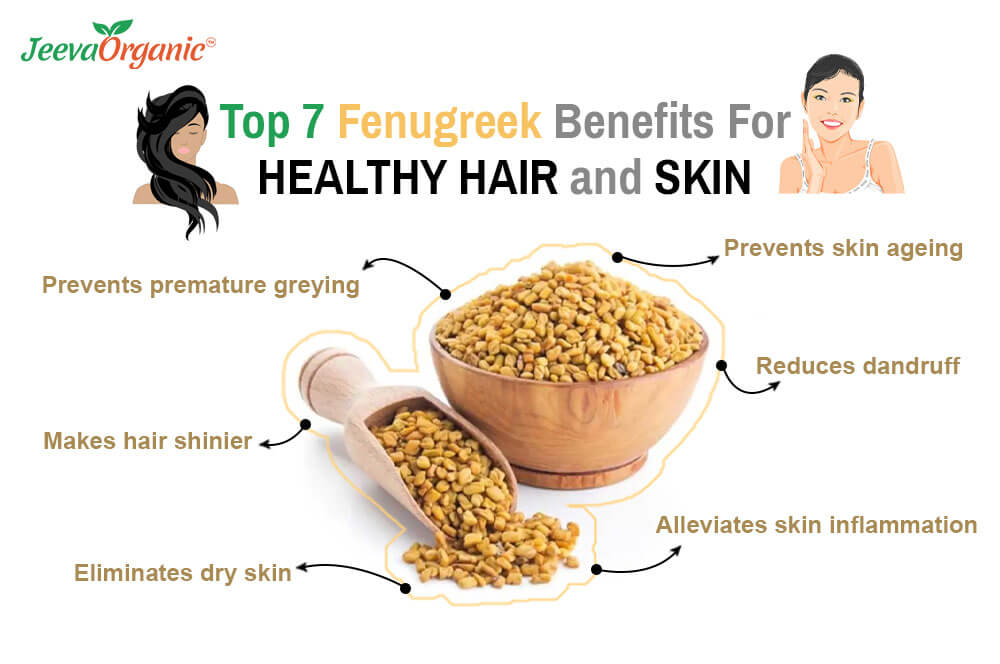 Benefits For Skin
1.  Prevents Skin Ageing:
Fenugreek are a rich source of Vitamin B3 and niacin that helps in repairing the damaged cells and produce new healthy ones. The fenugreek extract benefits in fighting against the signs of premature ageing like fine lines, wrinkles, and many more. Its nutrients improve skin elasticity and makes it firm.
2. Lowers Skin Inflammation:
Redness, burns, sensitivity are some signs of skin inflammation. It is an immune response which mostly goes away in few weeks. The seeds have amazing anti-bacterial, anti-inflammatory, and anti-fungal properties. It fights against bacteria to minimize inflammation of burns or wounds and speed up the healing process.
3. Deals with Hyper Pigmentation:
Hyper pigmentation and patchy skin are some major skin issues. This happens due to excess melanin formation on the particular area compared to the surrounding skin. As fenugreek is rich in vitamin K, it reduces blemishes and lightens acne scars.
4. Eliminates Dry Skin Issues:
 Everyday many people struggle to handle their dry and flaky skin. Climatic conditions such as cold or extremely hot weather can lower the moisture of the skin making it dry. However, the natural oils in fenugreek nourishes the skin and repairs skin cells. Thus, it helps in keeping skin supple and smooth.
Benefits for Hair
1. Minimizes Dandruff:
Dandruff are those white flakes you notice while brushing off your hair and causes itchiness in scalp. The protein and nicotinic acid in these seeds prevents growth of dandruff as well as reduces hair fall. It contains a compound of saponins and flavonoids having anti-fungal properties which lowers itchiness and promotes hair growth.
2. Makes Hair Shinier:
 Everyone wants glossy hair but numerous factors take away hair's shininess. Making hair smooth is one wonderful fenugreek benefits for hair. With elements like lecithin, it nourishes hair and makes it stronger. Moreover, fenugreek is rich in protein and iron that helps hair to grow faster.
3. Fights Against Pre-Mature Greying:
 Fenugreek powder have high potassium content that prevents premature hair greying. Amino Acids and gazillions of nutrients help in retaining natural pigment of hair.
Final Words
 From moisturising skin to preventing hair fall, fenugreek powder has a plethora of benefits on skin and hair. Its excellent attributes nourish skin from within and strengthens hair from root. Thus, making fenugreek as a part of your daily life can uplift your overall health.
If you are looking for Organic Fenugreek Powder in bulk quantities, you can place your order now on Jeeva Organic at affordable prices.
Disclaimer:
The above statements are not intended to cure any disease or comply with any health benefits. This is solely for information purposes. Please consult your doctor/health practitioner before consumption of the product. Although we take efforts to keep our website informative, we do not guarantee any medical benefits.